Salò Island
A Solo Project by Yoshua Okón, Curated by Juli Carson
Jan 09, 2014 to Mar 15, 2014
Reception:
Thursday, January 9, 2014 - 6:00pm to 9:00pm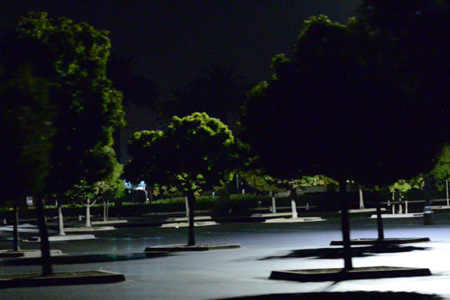 Yoshua Okón, Salò Island, 2013, (video still) 3 channel video, 31m 30s
Yoshua Okón's Salò Island conceptually begins with a crime scene: the murder of Italian filmmaker Pier Paolo Pasolini. Giuseppe Pelosi, a seventeen-year-old hustler, was arrested and confessed to murdering Pasolini. However, in 2005 Pelosi retracted his confession, bringing renewed attention to both Pasolini's homicide and artwork, the latter of which was regularly the subject of censorship. Pasolini's first novel, Ragazzi di vita (1955), which dealt with the Roman lumpenproletariat, resulted in obscenity charges. His final film, Salò, or the 120 Days of Sodom (1975), was a scathing critique of fascism that employed explicit scenes of sadistic violence. Based on the novel 120 Days of Sodom, by Marquis de Sade, Salò is considered his most controversial film. In May 2006, Time Out's Film Guide named it the Most Controversial Film of all time.
  
Okón's Salò Island returns to this crime scene to consider the interstice between aesthetics and obscenity: that political space from which artists "speak truth to power."  The setting is the triumphant stomping ground of global neo-liberal economics: Fashion Island, Newport Beach, one of the first open-air coastal shopping centers established in 1967. Through Okón's somnambulant lens, we envision Fashion Island as a symbolic burial ground, one in which Pasolini's murder is conceptually evoked as signifying the death of an era: 1960s Newport Beach culture, with its independent businesses, adolescent sexuality and human scale architecture.  In its place, we enter a filmic montage of contemporary Fashion Island, presented as a surreal late night corporate labyrinth, completely devoid of people, although perfectly lit and ready for business. A visualization of neo-liberal capitalism that proffers up readymade environments in place of usable public space, in Okón's hands, this mise-en-scène sets the stage for a real time public intervention.  Enter the specter of Salò's human dogs.  No longer are they Pasolini's young dogs in hell.  They return to us now as dogs from hell, aged and decrepit.  An allegory for what was once there, in situ, and what might still come to be, Salò Island is both a solemn warning and a poetic rumination. Read Brochure | OC Weekly Review | OC Register Review
CREDITS
Producers - N. Braxton Pope & Michael Moshe Dahan 
Cinematographer - Michael P. Tedford
Camera Operator - Joey Valenti
Editor - Rodrigo Cervantes
Sound Recording - Kevin DeKimpe
Post Production Sound - Ben Wilkins 
Colorist - Quinn Alvarez
Additional Camera - Maria Guerrero Solorzano & Elan Greenwald
Production Assistants  - Suzy Poghosyan & Katherine Elizabeth Hamrock 
Cast - Dog Walker: Michael Hansen. Dogs: Deb Fitz, Ivan Bohman, Glenda Suggs, Michael Q. Schmidt, Mark Glasser, Alan Green