Haunted Agencies Film Series
Nov 06, 2006 to Nov 17, 2006
Reception:
Monday, July 22, 2013 - 10:30am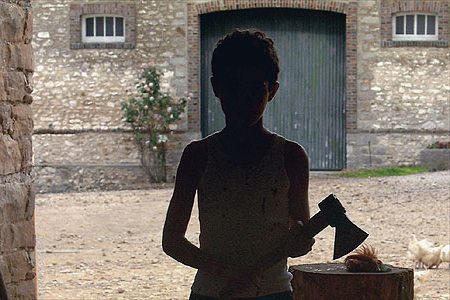 Patrolling is, in fact, my principle occupation. No matter how tight security, I am always somewhere outside giving orders and inside this straight jacket of jelly that gives and stretches but always reforms ahead of every moment, thought, impulse, stamped with the seal of alien inspection. --William S. Burroughs
UCI's Room Gallery continues its film screening series with Haunted Agencies, curated by Jason Keller. The ad hoc series begins with Fanon's impasse: What do we do when interrogation collapses and we are expelled into a haunted realm of agency? Modeled after Burroughs' Agent Lee, the films present the contradictory riddle of an impasse of agency that only produces more active agents. Each of the 20 films manipulates the suspense genre as an alibi that masks this contradiction, while revealing and reveling in its own horrific twist: Only the haunted get anything done.
WEEK I
Monday, November 6, 2006
The Innocents – Jack Clayton (1961) – 5:00 pm 
The Idiots – Lars Von Treir (2000) – 6:40 pm
Tuesday, November 7, 2006
The Swimmer – Frank Perry (1968) – 5:00 pm
Apocalypse Now – Francis Ford Coppola (1979) – 6:40 pm
Wednesday, November 8, 2006
Sleuth – Joseph L. Mankiewicz (1972) – 5:00 pm
Gray Gardens – Albert Maysles, David Maysles (1975) – 7:19 pm
Thursday, November 9, 2006
Blow Up – Michelangelo Antonioni (1966) – 5:00 pm
The Crying Game – Neil Jordon (1992) – 7:00 pm
Friday, November 10, 2006
Naked Lunch – David Cronenberg (1991) – 5:00 pm
Gozu – Takashi Miike (2003) – 7:00 pm
WEEK II
Monday, November 13, 2006
Branded to Kill – Seijun Suzuki (1967) – 5:00 pm
Game Over: Kasparov – Vikram Jayanti (2004) – 6:40 pm
Tuesday, November 14, 2006
Julien Donkey Boy – Harmony Korine (1999) – 5:00 pm
Happiness of the Katakuris – Takashi Miike (2001) – 7:50 pm
Wednesday, November 15, 2006
The Conversation – Francis Ford Coppola (1974) – 5:00 pm
Cache – Michael Haneke (2005) – 7:10 pm
Thursday, November 16, 2006
Don't Look Now – Nicolas Roeg (1973) – 5:00 pm
Code unknown – Michael Haneke (2000) – 7:00 pm
Friday, November 17, 2006
What time is it There – Tsai Ming-liang (2001) – 5:00 pm
Notre Music – Jean-Luc Godard (2004) – 7:10 pm