A Conversation in Three Parts: Notes on the Occasion of the Celebration of the 20th Anniversary of the North American Free Trade Agreement
Curated by Amy Sanchez-Arteaga
Reception:
Friday, April 15, 2016 - 10:00am to 3:00pm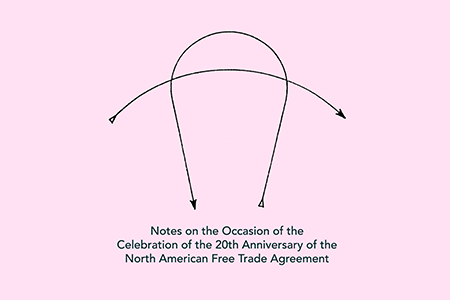 Participate in the discussion and activation of contributions from: Notes on the Occasion of the Celebration of the 20th Anniversary of the North American Free Trade Agreement, a bilingual anthology reflecting on what it means to inhabit the spaces we call Southern California and Northern Mexico 20 years after NAFTA's implementation.
Anthology Contributors:
Antena
Alicia Garza
Manuel Paul López
Cristina Rivera-Garza
Pepe Rojo
Amy Sanchez-Arteaga
Ultra-Red
 
Schedule:
Location:        Student Center—Moss Cove Room A
10:30AM        Part 1: Contributor Readings
                      Readings and Discussion with contributors Pepe Rojo, Manuel Paul Lopez and Amy Sanchez-Arteaga
12:00PM        Part 2: Screening + Discussion
                      Screening of Skin Destination (2012), a film by Tijuana-based filmmakers Adriana Trujillo and José Inerzia of Polen Audiovisual
1:30PM          Part 3: Re-siting
                      Campus People of Color Tours led by UCI Students.
                      The tours will be followed by a picnic reception in Aldrich Park.
 
This program is made possible by support from the Bren Foundation.
Moss Cove A is located on level 1 of the Student Center. Click here for location map.