Chiasmus: Zones of Political and Aesthetic Imagination
Curated by Andy Brown et al.
Jan 12, 2012 to Feb 11, 2012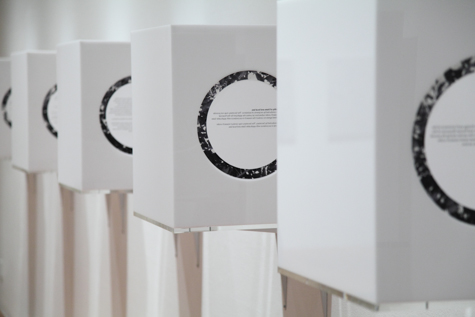 An Underdetermination (made necessary by the commonness of the debate), 2009, courtesy of the artist, Ragen Moss, acrylic, mylar, seven inkjet prints, six unique audio recordings, seven boxes
"...Political art does not constitute itself by blurring the borders between the registers of the aesthetic and the political, but, conversely it can only communicate itself meaningfully by crossing these borders."
- Helmut Draxler
Continuing the UAG's Critical Curatorial Exhibition Series, Chiasmus brings together eleven international artists working in such diverse mediums and strategies as: theatrical intervention, installation art and video, lyrical minimalism, sculptural systems, serial abstraction and gestural painting. In the exhibition, the viewer is invited to cross the borders between aesthetic and political concerns. This crossing occurs in the form of a dialogue that takes place between the viewer and the artwork - which continues between the artworks themselves - an operation traced by the discerning viewer. In the context of the current political landscape - from the Arab Spring to Occupy Wall Street to the Citizens United Supreme Court Decision to the Global Financial Crisis - Chiasmus stresses the importance of a rhizomatic conversation between fields of practice in order to imagine different productive relationships between them. This is the zone of political and aesthetic imagination.
Featured artists: Sayre Gomez, Julia Haft-Candell, John Husley, Alexandre Joly, Liz Magic Laser, Ragen Moss, Nikki Pressley, Meghan Petras, Tom Pnini, Hong-An Truong & Dwayne Dixon, John Williams Curators: Andy Brown, Todd Bura, Yaron Hakim , Kellie Lanham, Manjulika O'Rourke, Alexandra Pacheco Garcia, Martabel Wasserman
This exhibition is made possible by generous support from Tinnie and Shiv Grewal and the Swiss Arts Council Pro Helvetica.