On This Island by Rosalind Nashashibi
Curated by Allyson Unzicker
Oct 01, 2016 to Dec 10, 2016
Reception:
Saturday, October 1, 2016 - 2:00pm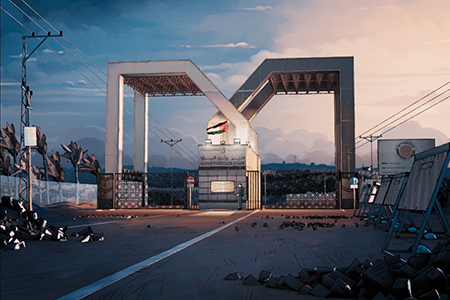 Rosalind Nashashibi, Electrical Gaza, 2015, video still, courtesy of Rosalind Nashashibi, LUX, London and Murrary Guy, New York.
The University Art Gallery is pleased to present On this Island, a solo exhibition by Rosalind Nashashibi. Nashashibi's films challenge perceptions that form around closed communities and the parallel realities that form within them. The exhibition consists of two films including her most recent Electrical Gaza, presented on the west coast for the first time. Originally commissioned by the Imperial War Museum, Electrical Gaza was filmed during the artist's trip in 2014, directly before Israel's military operation against Hamas-ruled Gaza. The film portrays footage of everyday life, which cuts intermittently between live action animation. As a result of the siege from both Israel and Egypt, Gaza exists as an island onto itself defined by extremely tight border controls and restrictions creating severe living conditions. This nearly global isolation is its enchantment - a land whose people are bewitched by perpetual war. 
Electrical Gaza is featured alongside Nashashibi's early 16mm film Eyeballing (2005). The film consists of still shots of inanimate objects and landscapes throughout New York city which subliminally portray a face. This anthropomorphic view of the city is coupled with footage taken directly outside the NYC Police Department located in Tribeca. The role of inspection is reversed as the viewer takes the vantage point of surveilling the police officers who enter and depart the station. With tensions constantly rising in the Middle East and with recent issues of police brutally and violence in the U.S., authority and control create an unconscious anxiety at the heart of these two "islands" – the metaphoric island of Gaza and Manhattan.
On view in the Contemporary Arts Center Gallery October 1 - December 10, 2016
Events:
Visiting Artist Lecture by Rosalind Nashashibi
Tuesday, October 4, 2016 | 1pm
Contemporary Arts Center Colloquium Room (CAC 3201)
Rosalind Nashashibi (b. 1973, Croydon; lives in London) is an artist working in film, sculpture, print and photography. Her best known films combine close observation of everyday life with constructed scenes, inhabiting the same place or time to capture the friction that occurs at the border between the real and everyday and the fantastical or mythological. These works often explore issues of control, internalized into citizens or exerted by the state.
Nashashibi received a MFA at the Glasgow School of Art in 2000. Recent solo exhibitions include Two Tribes at the Murray Guy Gallery, New York. Electrical Gaza at the Imperial War Museum, London, and The Painter and the Deliveryman, Objectif Exhibitions in Antwerp. In 2014, she received the Paul Hamlyn Foundation Award for Artists. Nashashibi has had numerous solo shows including those at Tate Britain; Chisenhale Gallery, London; Presentation House Gallery, Vancouver; ICA London; Bergen Kunsthall; Berkeley Art Museum. She represented Scotland at the 52nd Venice Biennale, and has participated in Manifesta 7, Sharjah 10 and the 5th Berlin Biennial with Lucy Skaer in their collaboration as Nashashibi/Skaer. In 2017, Nashashibi/Skaer will have a solo exhibition at Galleries Lafayette, Paris.
Free and open to the public.  This event is part of the UCI Department of Art Lecture Series.  The Series is designed to be an opportunity for the UCI community to engage in dialogue with guest artists from a variety of disciplines and perspectives in the field of contemporary art. 
Press: 
New University