B L U E W A V E
Oct 05, 2019 to Dec 14, 2019
Reception:
Saturday, October 5, 2019 - 2:00pm to 5:00pm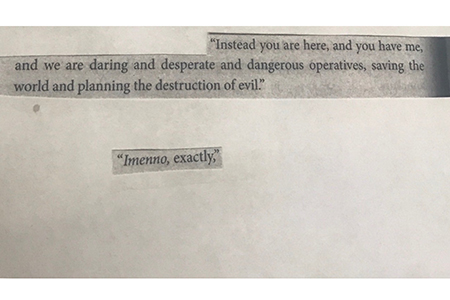 You are here and you have me and we are daring and desperate and dangerous operatives saving the world and planning the destruction of evil
B L U E  W A V E
L u t z  B a c h e r
B L U E  W A V E  L u t z  B a c h e r  is the final large-scale multimedia installation of Bacher's forty-year career, produced in the seven month period prior to her death in May, 2019. Moskva (2019), consists of nearly 100 prints, acting as the centerpiece of the exhibition. This unframed work will be installed in the Contemporary Art Center Gallery. Rocket (2016-18), originally commissioned for SITE Santa Fe, will be installed inside the glass wall lobby of the Contemporary Art Center rendering it visible from outside of the building. A two-channel video projection, Blue Wave (2019), will be installed inside the University Art Gallery and a series of short videos Bacher titled Modules (2018-19), will be screened continuously in multiple computer labs throughout UC Irvine's Art department.
Lutz Bacher (1943-2019), a pseudonym, was an American conceptual, interdisciplinary artist based in Berkeley, CA from the 1970s until 2013, when she relocated to New York. Known for three decades as a "cult" artist of profound influence, she achieved mainstream international acclaim in the final decade of her forty-year career. Her extensive oeuvre spanned image and text, photography, painting, sculpture and video to large-scale multimedia installation. In a mode of cultural anthropology, Bacher's work is distinguished by its visceral scrutiny of the reoccurring themes of violence, masculinity, memory, sexuality and the body.
Recent solo exhibitions include Galerie Buchholz, Cologne (2019); K21 Ständehaus, Düsseldorf (2019); 80WSE, NY (2018); Galerie Buchholz, Cologne (2018); Lafayette Anticipations - Fondation d'entreprise Galeries Lafayette (2018); KADIST, San Francisco (2017); 3320 18th St., San Francisco (2017); Yale Union, Portland (2016); Greene Naftali Garage, Brooklyn (2016); Secession, Vienna (2016); 356 S. Mission, Los Angeles (2016); Greene Naftali, New York (2015); Aspen Art Museum, Colorado (2014); Greene Naftali, New York (2014).
Her work is in the collections of the San Francisco Museum of Modern Art, San Francisco; The Art Institute of Chicago, Chicago; The UC Berkeley Art Museum and Pacific Film Archive, Berkeley; The Metropolitan Museum of Art, New York; Walker Art Center, Minneapolis; Whitney Museum of American Art, New York; and the Museum of Modern Art, New York.
Organized by Monica Majoli
On view in the University Art Gallery & Contemporary Arts Center Gallery
Events:
DO YOU LOVE ME?
Saturday, December 14th, 2019
9:30 AM–9:30 PM
Contemporary Arts Center (CAC) Colloquium Room 3201
Please join us on December 14th for a daylong closing event for B L U E  W A V E  L u t z  B a c h e r featuring a screening of Bacher's rarely seen video DO YOU LOVE ME? (1994), shown in its entirety from 9:30 AM to 9:30 PM in the Contemporary Arts Center (CAC) Colloquium Room 3201 (3rd floor) located above the CAC Gallery. This 12-hour long video, which inspired Bacher's 2012 book of the same title, features the artist interviewing friends, family, and colleagues on their perceptions of her as a person and artist. In the process of reflecting on Bacher, a portrait of the speaker emerges in tandem. For the event, the galleries will remain open for the duration of the screening and Modules will play in the CAC computer lab G021 (ground floor).
Press:
New University: "B l u e W a v e": Lutz Bacher's Final Exhibition
Irvine Weekly: UCI Art Galleries Present 3 Provocative Exhibitions
X-TRA: Conceptual Expressionism
Frieze: A Show by the Late Lutz Bacher Evokes Something 'Just Outside of Perception's Grasp'
Contemporary Art Daily: Lutz Bacher at the University Art Galleries at UC Irvine
OC Weekly: A Sublime Farewell From Lutz Bacher at UCI
ArtForum: Lutz Bacher
SPIKE Art Magazine: "The Bestower" Lutz Bacher Blue Wave
B L U E W A V E L u t z B a c h e r brochure, text by Monica Majoli, 2019.